Our energy management system aims to monitor energy consumption with a high level of detail, to optimise and to reduce it and, at the same time, to maximise the consumption of self-generated green and renewable electricity. This is achieved with the help of artificial intelligence and enables you to save on electricity costs, conserve natural resources such as drinking water and natural gas, and simultaneously sustainably improve your carbon footprint.

WHICH TYPES OF ENERGY DOES THE ENERGY MANAGEMENT SYSTEM MONITOR?
WE LOWER YOUR ENERGY COSTS – YOU SAVE MONEY
By intelligently optimising energy consumption, our system will reduce your dependence on fossil fuels, have a positive impact on your carbon footprint and support companies and communities on their way to energy (CO2) neutrality. Furthermore, due to the intelligent control, surplus electricity can be used for heating and hot water (electricity-heat coupling and heat pump).
We identify potential savings and you...
The concept of sustainability has been widely discussed for some years now, and companies are trying to take the necessary steps to ensure that as many areas of daily life as possible become more environmentally friendly. This includes the energy consumption of vehicles, heating/cooling and water/waste water. Using our solution, you can reduce your electricity costs and monitor, optimise and reduce the consumption of important resources such as water.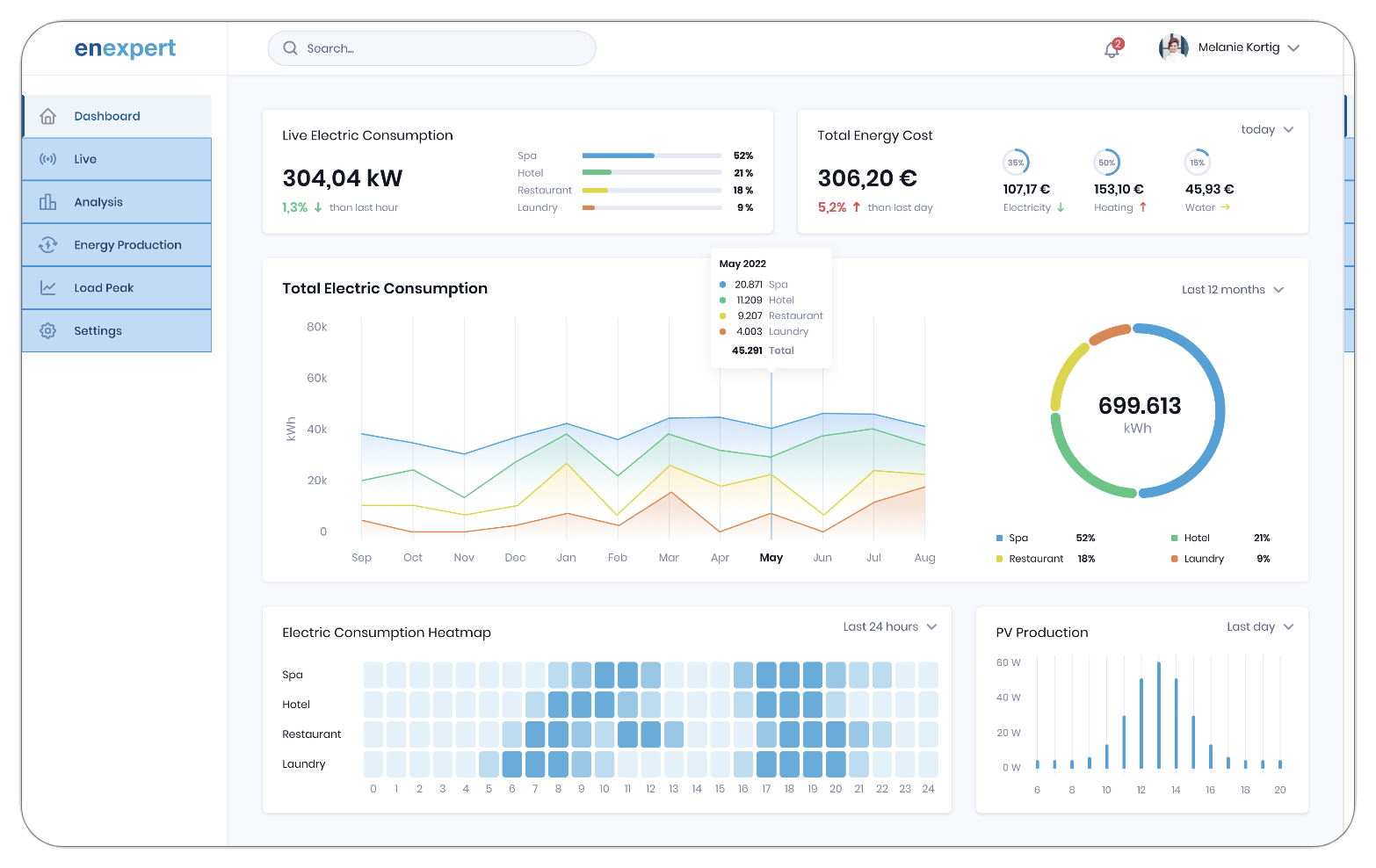 Especially in sectors with a high demand for energy, such as hotels or industrial enterprises, it is important to know the details about your energy consumption in order to implement emerging technologies and trends in an energy-efficient manner, e.g. the increased popularity of e-mobility. Municipalities and public utilities are also striving to increase their energy efficiency by collecting consumption data and intelligently planning and controlling resources. This is why we have made it our goal to digitalise energy flows with the help of an interactive energy management system.
THE ENERGY MANAGEMENT SOLUTION FROM EnExpert
We install smart IoT sensors in several areas of your business, which we then use to collect and monitor your consumption data with the help of a cloud database. Based on this data, our AI-powered platform identifies potential savings to reduce energy consumption while maximising the in-house production and the use of renewable energy to increase profitability.
Do you want to save money on your energy consumption?
Your challenge
– Rising energy costs
– Increasing energy consumption
– Inefficient energy use
Our solution
– Visual consumption monitoring in real time
– Smart regulation of energy flows
– Maximisation of self-produced electricity
– State-of-the-art wireless technology based on artificial intelligence
– Expandable in a modular way & easy to install
– Reduced strain on the power grid
– Detection of irregularities
– Extensive automatic analyses