Energy is a valuable and existential asset for all of us. At EnExpert, we strongly believe that this asset needs to be preserved for the future by using it efficiently today. This is exactly what EnExpert enables all businesses to do.
Our vision is to raise awareness among all individuals and businesses of all sizes about energy, energy waste and CO2 emissions, and to provide simple but helpful tools to reduce energy consumption and emissions so that everyone can contribute to a more sustainable planet in a simple but effective way.
Our goal is to provide companies with a better understanding of their energy consumption and to take effective and sustainable action based on the resulting insights.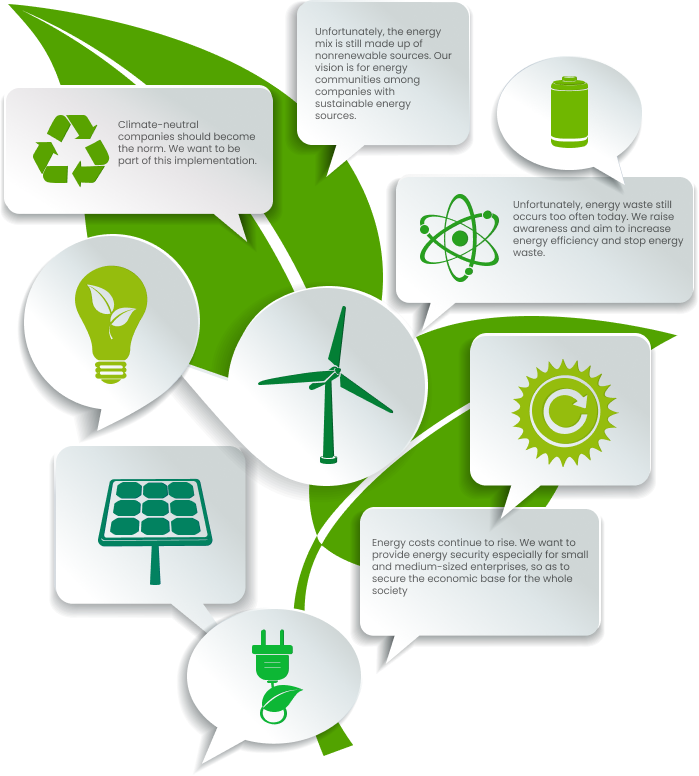 We have noticed that many, especially medium-sized companies, want to take a step towards reducing their carbon footprint and becoming climate neutral, but due to a lack of awareness and the immense size of the topic, the task seems overwhelming, and there is uncertainty about where to start. With these difficulties in mind, we too wanted to make our contribution to a sustainable development by providing a simple and effective solution to monitor and optimise energy consumption.
Simple & effective solution to optimise energy consumption
Using simplified sensors, we are enabling companies to track the source of their electricity usage, and to determine whether the amount of consumption on the electricity bill can be allocated to an efficient use.
Integration of different smart meters
"Modern" smart meters provide only minimal information about energy consumption, as well as the use and production of electricity. In addition, each provider sells their own closed system. However, the only way to sustainably optimise energy flows is by providing a comprehensive overview. Therefore, we have made it our mission to increase energy efficiency in companies by measuring energy flows and integrating different smart meters so that, on the one hand, lost energy can be saved and, on the other hand, used energy can be managed more efficiently.
Contribution to sustainability
We do not only aim to provide companies with an economic advantage, but also with an environmental one. The global challenges we all are facing are addressed on a local level, a contribution to the energy transition is achieved and sustainability criteria for our customers and our customers' customers are fulfilled.