Is your company ready to take action?
Our mission is to help companies reduce their CO2 emissions. As a result, we have developed a customisable and flexible Carbon Management System. It allows companies to precisely monitor, optimise and reduce their CO2 emissions, which enables them to do their part in contributing to sustainability.
But that's not all! EnExpert's technology also uses artificial intelligence to implement climate-neutral practices, such as maximising the consumption of self-produced electricity.
By using our system, the carbon footprint can be improved sustainably, thereby saving costs and conserving natural resources such as drinking water and natural gas.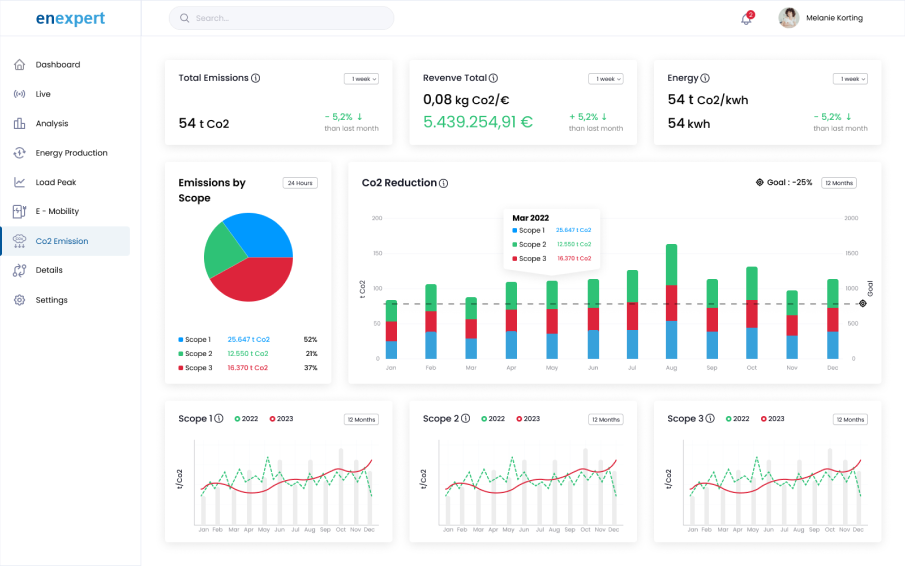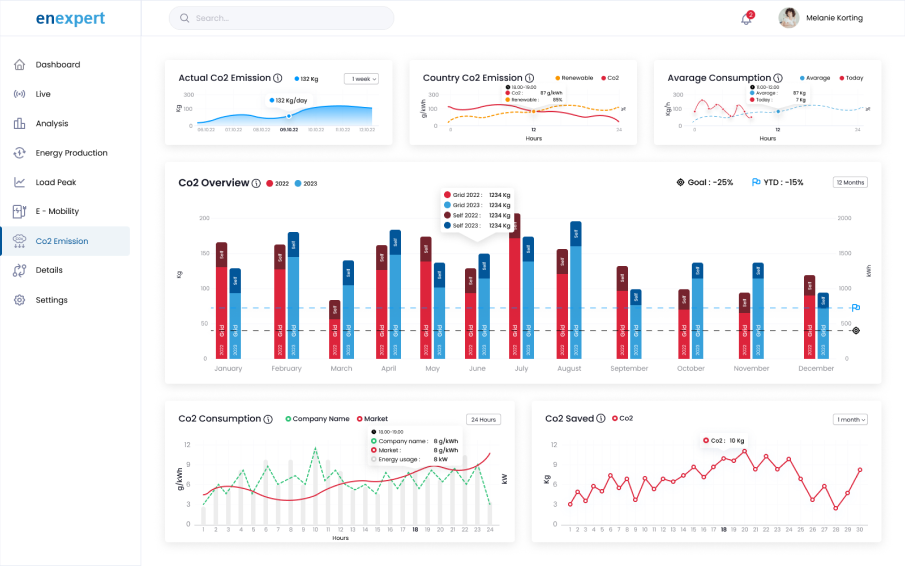 Our Carbon Management includes the following services:
Scope 1: direct emissions
Our system accurately records all direct emissions from processes such as production.

Scope 2: energy emissions
Our system also records all emissions resulting from the procurement of energy sources.

Scope 3: value chain emissions
For an overview of the entire carbon footprint, our system calculates all emissions that occur along the value chain.
CO2 Software
Our CO2 software is easy to use and clearly displays all emissions. This makes it easy to define appropriate measures and targets.
Action Plan
Together with each company, we develop a plan of action to sustainably reduce CO2 emissions.
Implementation
We support companies in implementing the proposed actions and monitor their efficiency and effectiveness.

Compensation Certificates
As not all CO2 emissions can be completely eliminated, we help to find suitable compensation certificates in order to achieve climate neutrality for your company.

Carbon Footprint
Ultimately, our CO2 software calculates the carbon footprint for all emissions and activities in the company.
External Communication
Naturally, the company's efforts should also be communicated to the outside world. Therefore, we support companies in creating target-oriented marketing and communication concepts.
Carbon Management Results
Using our Carbon Management System, all CO2 emission calculations are carried out and analysed automatically and quickly according to the GHG Protocol. Data is mainly collected via sensors directly connected to the software and can also be entered via simple forms and input fields. Our software then presents all the data in a well-structured and intuitive way and creates scenarios and measures to achieve specified climate objectives.
EnExpert does not only accompany you and your company during the implementation of the CO2 system, but also continually supports you in putting your measures into practice and reviewing them.

Our CO2 software also easily connects to our energy management system, which allows companies to precisely monitor, optimise and reduce their energy consumption. As a result, companies can save up to 20% of their energy costs and make a further contribution to sustainability.
With our intelligent IoT sensors and the possibility to integrate existing systems into our energy management, we create a simple and clear representation of all energy flows in your company.

An annual monitoring of all CO2 emissions...
for a constant reduction of CO2.

The creation of marketing and communication concepts...
is supported and accompanied by us, for a target-oriented communication to potential customers.

A tailor-made carbon management...
that meets the requirements and needs of your company.

A user-friendly and well-structured software...
which generates a greenhouse gas report in accordance with the GHG Protocol.
Our CO2 software receives data partly via simple, predefined forms and input fields, but mainly via IoT sensors, which can be installed quickly and cost-effectively within your company.
EnExpert Carbon Management provides a number of advantages for you.
Cost reduction
Companies with carbon management can improve their production processes and energy efficiency, reduce energy consumption and hence save money.

Sustainability
By optimising production processes, taking measures to reduce carbon emissions and purchasing compensation certificates, your company can take important steps towards climate neutrality and therefore make a significant contribution to sustainability.

Competitive advantages
Cost reductions and a transparent communication of a sustainable carbon footprint create new marketing potentials and bring competitive advantages. In addition, new customer segments can be addressed.

Employee involvement
Implementing sustainability measures can increase employee satisfaction and motivation as they identify with an environmentally conscious company.
Customer loyalty
With our carbon management, you reduce your carbon footprint and actively engage in environmental protection. This can improve your company's image and reputation. As a result, it can strengthen customer confidence in the company and lead to higher customer satisfaction and customer loyalty in the long run.